TENS Units for Athletes
What these devices are, how they work, and why athletes use them.
Participating in sports is one of life's greatest pleasures for an athlete. However, the pain from injury or overuse of muscles sometimes makes it difficult. This is where TE NS therapy comes in. TENS therapy is an effective, drug-free option for treating the pain associated with injury or muscle overuse. It can help facilitate rehabilitation and get you back on the field or the court before you know it.
What is TENS Therapy?
Transcutaneous electrical nerve stimulation- referred to as TENS- therapy relieves pain by using a low-voltage electrical current. It is the most common type of electrotherapy for providing drug-free pain relief for chronic and acute pain.
A sports TENS unit is a battery-powered device with electrodes attached to it. The electrodes are placed on your skin at specific trigger points or near the nerves where the pain is located.
How Does TENS Therapy Work?
According to experts, there are two theories for how TENS therapy works:
Theory #1: electrical current stimulates nerve cells, blocking the transmission of pain signals and modifying your perception of pain.
Theory #2: stimulating the nerves increases the production of endorphins, the body's natural painkillers. When the production of endorphins increases, the perception of pain is blocked.
Do Athletes Use TENS Therapy?
Healthcare providers have used TENS therapy to relieve pain since the 1960s, and while there is some conflicting information, there continues to be more proof of how powerful TENS therapy can be for pain relief. One of the major advantages is that it's a drug-free option, making it ideal for those who can't or don't want to take medication due to the potential side effects.
According to 2008, 2014, and 2017, it effectively treats athletes' exercise-induced pain and injury rehabilitation.
How to Use TENS Therapy
Using a TENS unit is fairly easy:
You can personalize your therapy
First, you'll choose the area where you feel pain and clean the skin before attaching the electrodes. Then, you'll choose the intensity level. Most people start with the lowest intensity, increase it as needed, and do not increase it beyond what is comfortable for them.
How do you know it's working?
You will feel variations of massage-like sensations, mild muscle contractions, and tapping. As mentioned, start with the lowest intensity you can feel and increase it as needed. If it begins to feel uncomfortable, decrease the intensity or change the program. Increasing the intensity if you feel the sensation is weakening or you can't feel it anymore.
How long should it be used?
When you are just starting with TENS therapy, start with a 15-minute session. Attach the pads to your skin before turning on the unit. After 15 minutes, check your progress by rating your pain on a scale of 1 to 10. If pain has reduced or stopped, you can stop therapy. If you are still in pain, try another 15-minute session.
Why Would an Athlete use a TENS Unit?
There are several reasons that an athlete might want to consider using a sports TENS unit, including:
Pain Relief/Reduces Pain Signals
The primary benefit of using a TENS unit for athletes is pain relief. The electrical impulses stimulate the nerves and facilitate the release of endorphins, which distracts the pain centers and blocks the pain signals from reaching the brain, reducing acute and chronic pain. No matter what area you are experiencing pain in or what has caused the pain, you can depend on a TENS unit for natural pain relief.
Non-Invasive/Drug-Free
A sports TENS unit is a non-invasive method for treating pain. The electrode pads are placed on the skin, and the electrical stimulation does not intrude into your body, causing harm. It can be used to treat acute to chronic pain.
In today's world, it's easy to access painkillers to deal with pain- but they often come with undesirable side effects. A TENS unit is a drug-free, natural way to address pain, triggering your body to release endorphins and heal quickly.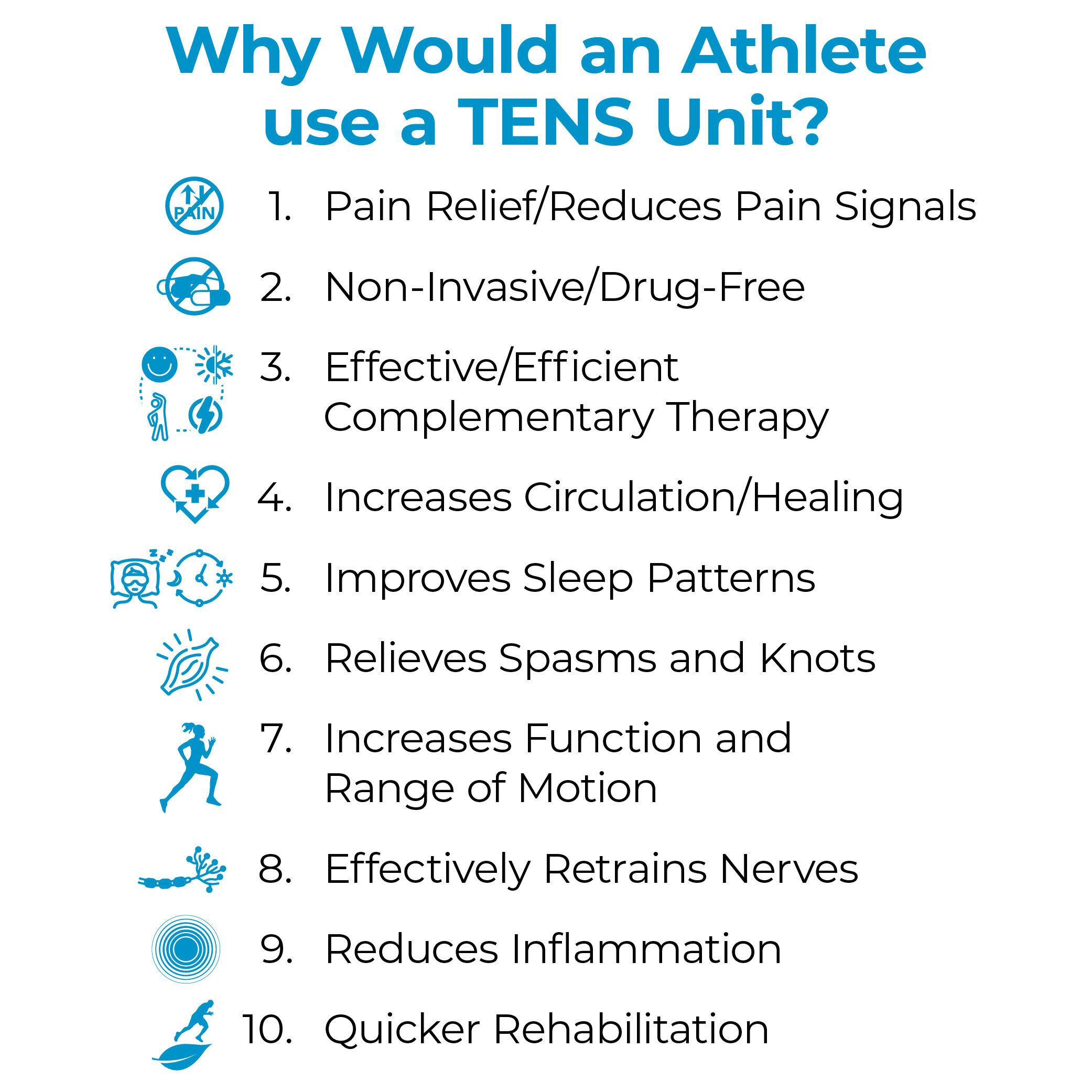 Effective/Efficient Complementary Therapy
TENS therapy can be used alone or along with other types of treatment.
Increases Circulation/Healing
A TENS unit for athletes overrides/blocks pain signals between nerves and your brain, increasing circulation and functionality of the affected area.
Improves Sleep Patterns
You can relax and sleep at night without worrying about pain or muscle spasms when your pain is relieved.
Relieves Spasms and Knots
Muscle spasms and knots tighten the muscles near the injury to protect them from additional harm. A sports TENS unit can be used to relax overworked muscles that have become knots. One study indicated that TENS therapy, along with stretching, is effective in reducing knots and allowing an increased range of motion.
Increases Function and Range of Motion
Research shows that a TENS unit for athletes can be used along with other forms of treatment, such as guided imagery, relaxation therapy, physiotherapy, and spinal manipulation, for improved functionality and increased range of motion.
Effectively Retrains Nerves
In addition to reducing and blocking pain signals, research has shown that TENS therapy can be used to retrain nerves- especially for athletes who have nerve damage. As mentioned, the TENS machine will also block the nerves from sending pain signals to your brain.
Reduces Inflammation
For athletes, inflammation is often a source of pain and discomfort. However, a sports TENS unit can be used to reduce inflammation deep within the muscles, and it can also be used to relieve pain resulting from sciatica and pinched nerves.
Quicker Rehabilitation
When an athlete experiences an injury or pain, their first concern is typically when they will be able to get back out onto the field or the court. Unfortunately, sometimes they worry about re-injuring the area, so they restrict movement, which leads to muscle atrophy and increases the time it takes to rehab the injury. However, TENS therapy can reduce inflammation and pain, allowing them to progress through rehab and get back to their typical activity sooner.
Conclusion
For athletes, participating in sports is one of life's greatest pleasures. However, staying active when an injury occurs or muscles are overused becomes challenging. TENS therapy for athletes is an effective, drug-free way to deal with the pain and inflammation that comes with injuries or muscle overuse to get you back on the field or the court as soon as possible.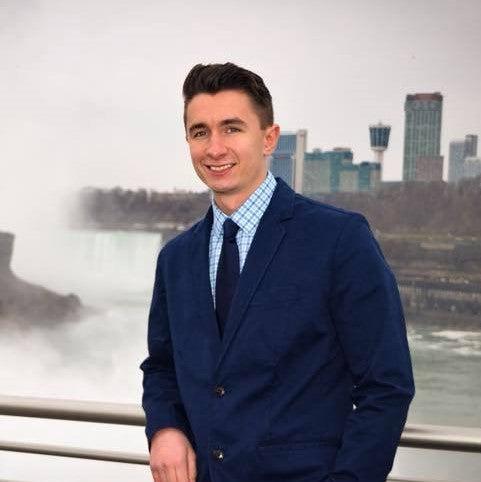 About the Author
Brandon Landgraf is the Digital Marketing Manager for Carex Health Brands. He finds passion and fulfillment in creating content that enhances, improves, and enlivens others' quality of life. All of his written work is formulated to not only offer essential advice and tips but back it with proven studies and experts. His mission is to connect with readers and provide steps to make their lives better.

About TENS 7000
Pain sucks. It affects millions of people each year with adverse physical and mental side effects. TENS 7000 provides tools to combat pain and let people live life on their terms, pain-free. Our TENS 7000 TENS Unit is one of the top-rated over-the-counter TENS units, having sold over two million since 2008. Stop letting aches and pain hold you back — live life on your terms.