TENS Unit and Sciatica Pain Relief
Does a TENS unit help sciatica? Absolutely.
TENS units have many uses, including pain relief treatment for sciatica. Sciatic nerve pain relief with a TENS unit has been proven to help with recovery in many patients. Living with sciatica can be frustrating, disheartening, and even debilitating—but finding any level of pain relief can help patients to move forward as they seek to resolve the issue. 
In a ten-week study, a TENS unit for sciatica helped to alleviate sciatica pain in 40/40 participants!
Sciatica results from irritation of the sciatic nerve, which originates in the lower back and travels down the buttocks and legs. When this irritation occurs, pain radiates along the nerve's pathways, typically on just one side of the body. Sciatica is a widespread condition (there are more than three million cases each year in the US alone), and TENS units can help you as you progress with treatment and relief.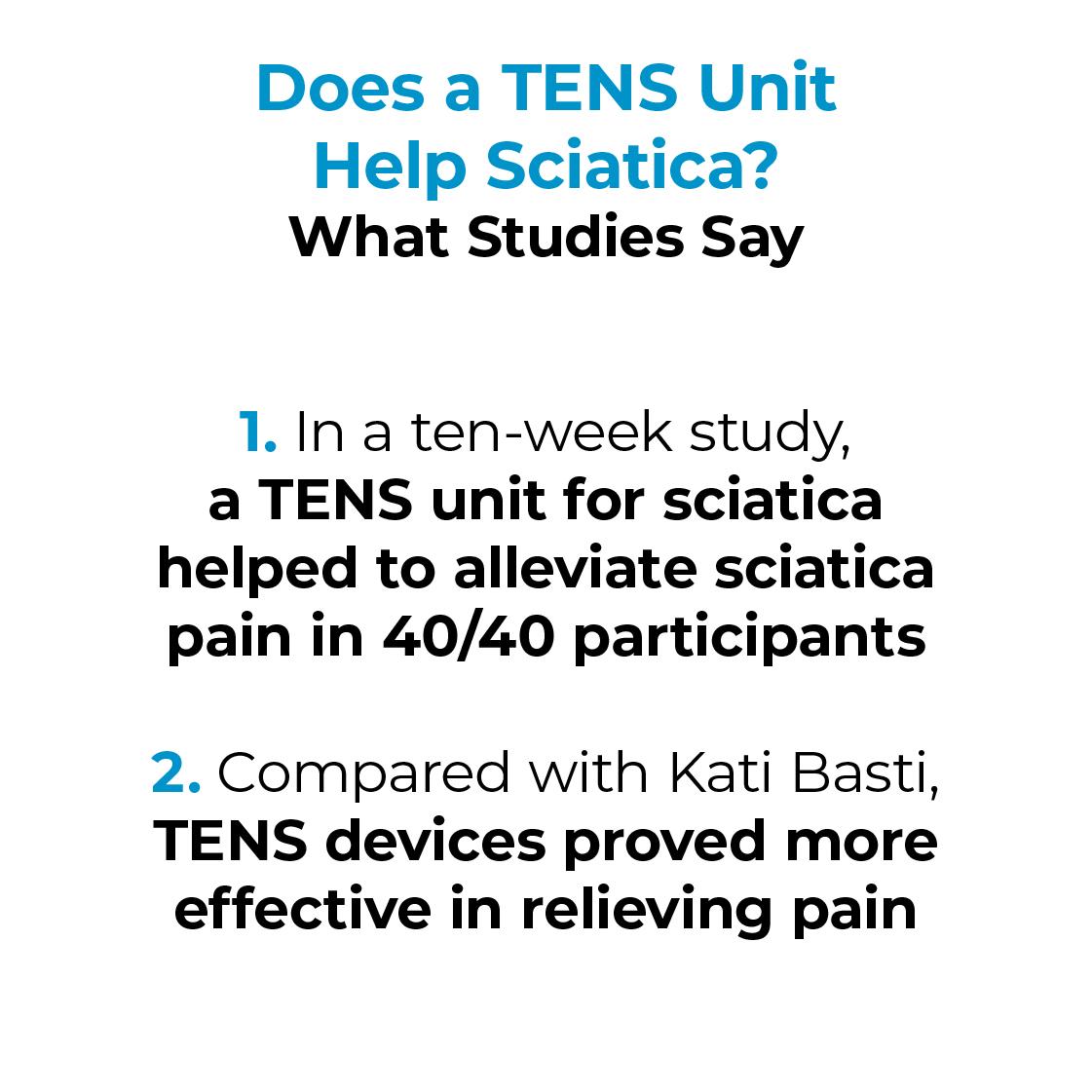 TENS machines for sciatica have been proven to alleviate lower back pain and can help you complete exercises and treatments by making the condition more bearable. Compared with Kati Basti (deep tissue therapy using heat and oils), TENS devices proved more effective in relieving pain. The details below explain how TENS units work and why this treatment is suitable for sciatica.
What is Sciatica Pain?
Will a TENS unit help sciatica? Yes, and we can tell you what you're up against.
Sciatica pain is typically a result of a herniated disc. An irritated disc within the vertebrae of the spine may swell and bulge out of the spine, putting pressure on the nerves. Herniated discs in the lower back may put pressure on the sciatic nerve, leading to sciatica and its associated pain.
Sciatica pain will follow the sciatic nerve, which may occur in the lower back, hips, buttocks, or legs. This may be a radiating pain, an aching, or a sharp pain. Other symptoms include tingling, numbness, and weakness in the affected areas.
Typically, those who suffer from sciatica are 30-50 years old. Those whose profession includes lifting heavy objects or sitting for long periods may be at risk for sciatica.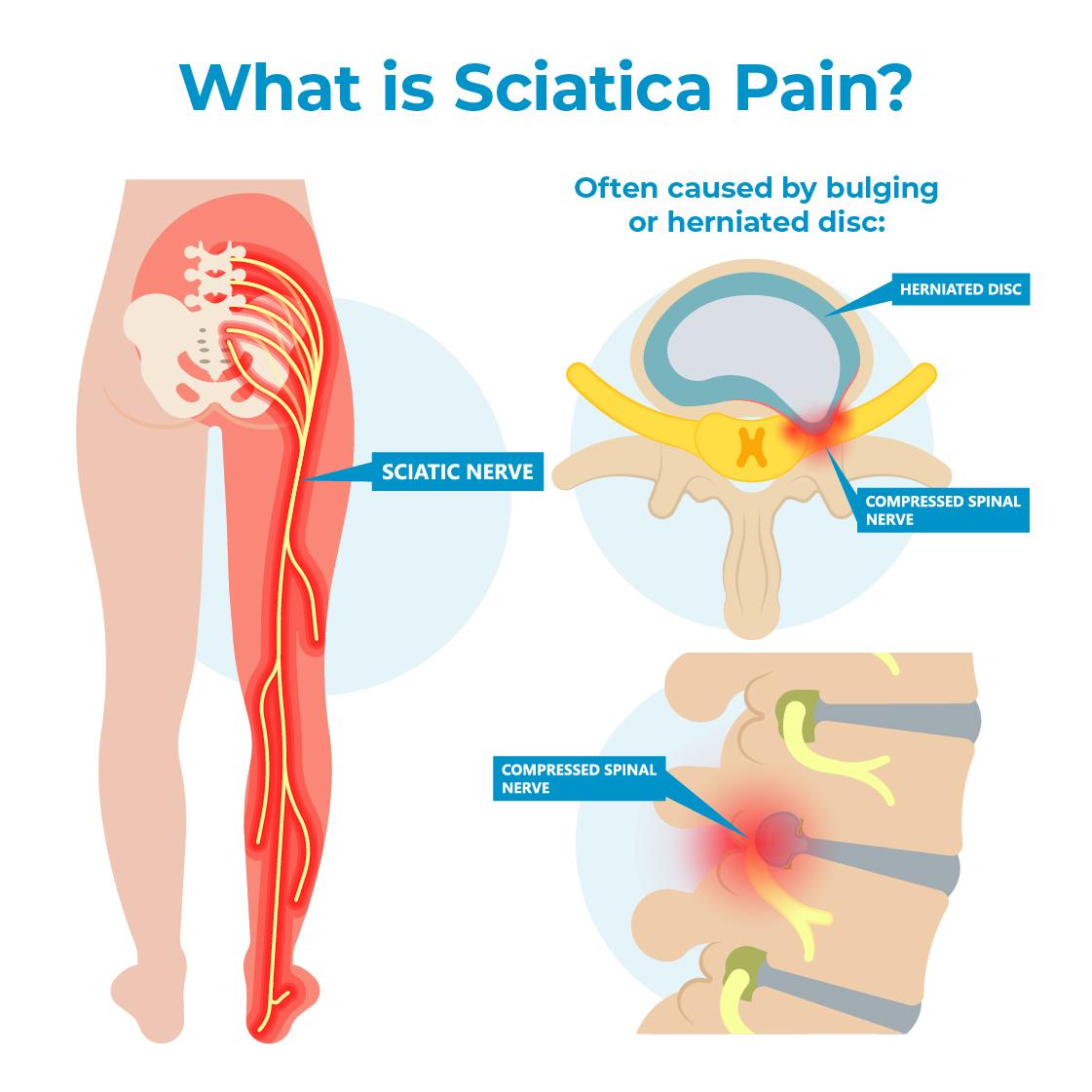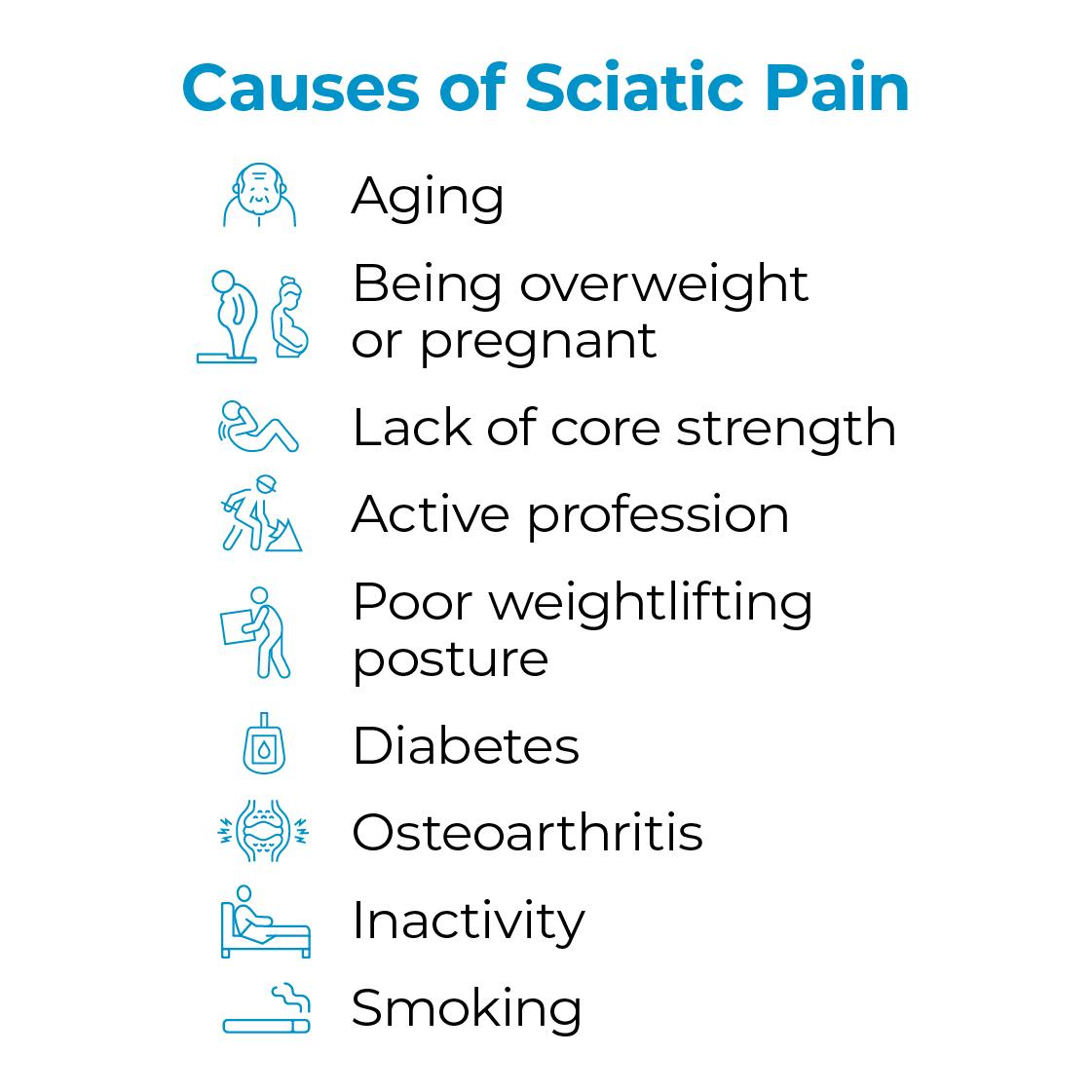 Causes of Sciatica Pain
The most common cause of sciatica is a herniated or slipped disc in the spine. This causes irritation or pinching of the sciatic nerve. The herniated or slipped disc may be caused by the following:
Aging
Being overweight or pregnant
Lack of core strength
Active profession
Poor weightlifting posture
Diabetes
Osteoarthritis
Inactivity
Smoking
And more.
Additional to slipped and herniated discs, sciatica may be brought on by other conditions such as spinal stenosis, spondylolisthesis, trauma to the lower back, tumors in the lumbar spinal area, piriformis syndrome, or cauda equina syndrome.
If you think you may be experiencing sciatica, you should seek guidance from your doctor and work with them to create a care plan. Your physician will help to consider your symptoms and diagnose the issue appropriately.


Methods for Sciatica Pain Relief
When consulting your physician about appropriate care plans for sciatica, you can expect several typical treatment methods. 
Your doctor may have you use ice packs or heating pads. Depending on which is most effective for relieving your pain, you may switch between using ice and heat.
Over-the-counter pain relievers can be helpful when treating sciatica by helping alleviate the pain you experience while your body rests and heals.
Your doctor might show you some simple stretches and exercises to help you recover. Pain relief, provided by the TENS unit, may become especially helpful when it comes to exercises—if you are in too much pain, doing a basic stretch may seem impossible. But by removing the barrier of pain, you can take the steps needed for recovery.
How TENS Relieves Sciatica Pain
Will a TENS unit help with sciatic nerve pain? Yes, and we can tell you how.
The primary symptom of sciatica is radiating pain along the sciatic nerve. TENS units address this issue specifically. TENS stands for transcutaneous electrical nerve stimulation—in short, these TENS for sciatica units will send a low-voltage electrical pulse to your skin. The electrical signal then stimulates your nerve endings and encourages endorphin production. Endorphins act as a natural painkiller.


TENS units also interfere with the pain signals being sent to your brain. The electric signal from the TENS unit may confuse or redirect the pain signals from your sciatic nerve, effectively blocking them from entering your nervous system and completing the pathway to your brain.
Both results from TENS units work to relieve your sciatica pain by producing natural painkillers in your body and interfering with pain at its source. The TENS units aren't challenging to use and are an exceptionally affordable method of pain relief. You can obtain a reusable unit for as low as $40, and you only have to replace the electrode pads. Getting a TENS unit for sciatic nerve pain is an affordable and reusable step toward sciatica recovery.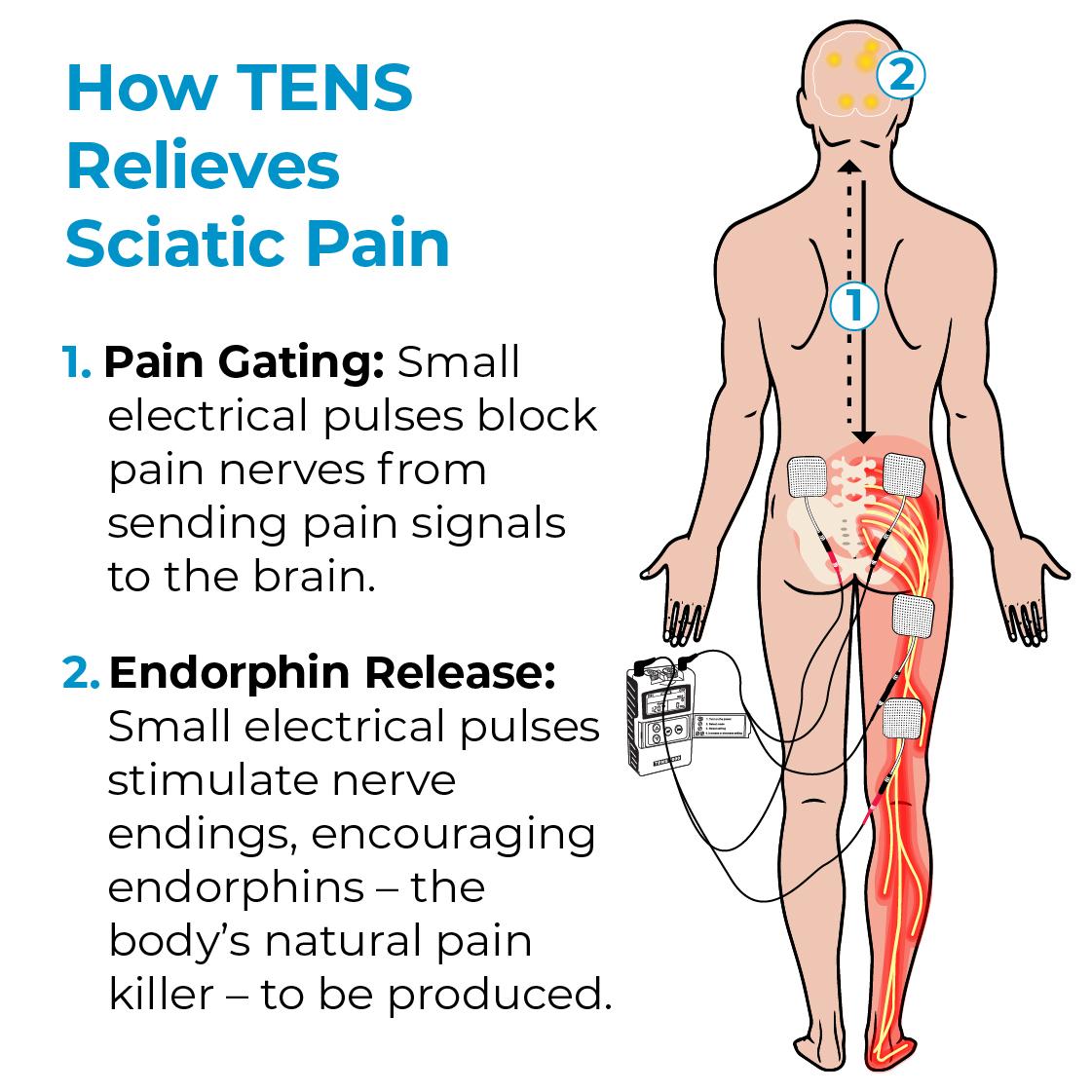 Using TENS for Sciatica Pain
Can a TENS unit help sciatica? Yes, and it can be fit for your body's specific needs.
Using a TENS unit is simple! It's all about listening to your body and adjusting to fit your needs. Make sure you know how the machine should be activated, and make yourself aware of the appropriate locations for the TENS electrode pads.


Attach the electrodes to the machine.

This first step is easy and requires no extra considerations.

Place the electrodes on your skin.

You'll want to place the electrodes on your lower back for sciatica pain. The sciatic nerve is located at your lower spine down to your legs, so you'll also want your treatment to be focused there.

Adjust the unit's settings.

Pay attention to your body and the pain you're feeling, and adjust the settings on your TENS unit until you feel pain relief. This may look different for you than others, so be patient and listen to your body. It may take a few tries!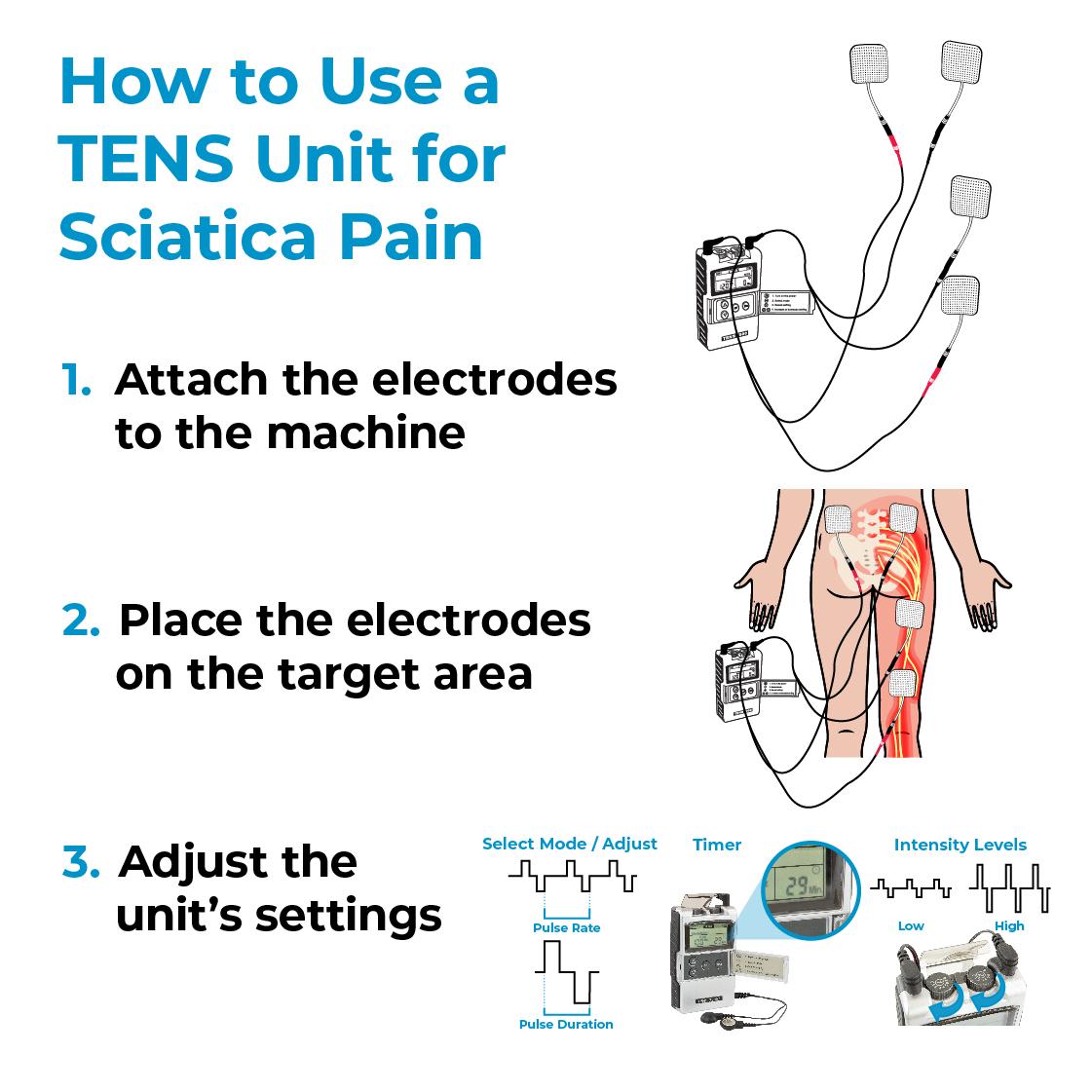 TENS Unit Sciatica Placement
Is a TENS unit good for sciatica? Yes, so long as you place it where you need it!

As mentioned above, adjusting your TENS unit to your needs may take a few tries.
Consider your sciatic nerve.

The sciatic nerve is the longest in the nervous system, and it begins in your lower back, then runs through your hips, buttocks, and legs. The

pain associated with sciatica is typically located on only one side of the body

, meaning the irritation is localized on one branch of the sciatic nerve. You'll want to

place your TENS unit at the location of your pain, whether this is in your hips, buttocks, or the backs of your legs.

Listen to your body.

Be patient as you find the settings and placement that you need. You'll want to

move the electrode pads around and adjust your unit's settings until you are satisfied with the pain relief

you are receiving.

If it doesn't feel right, keep trying until it does.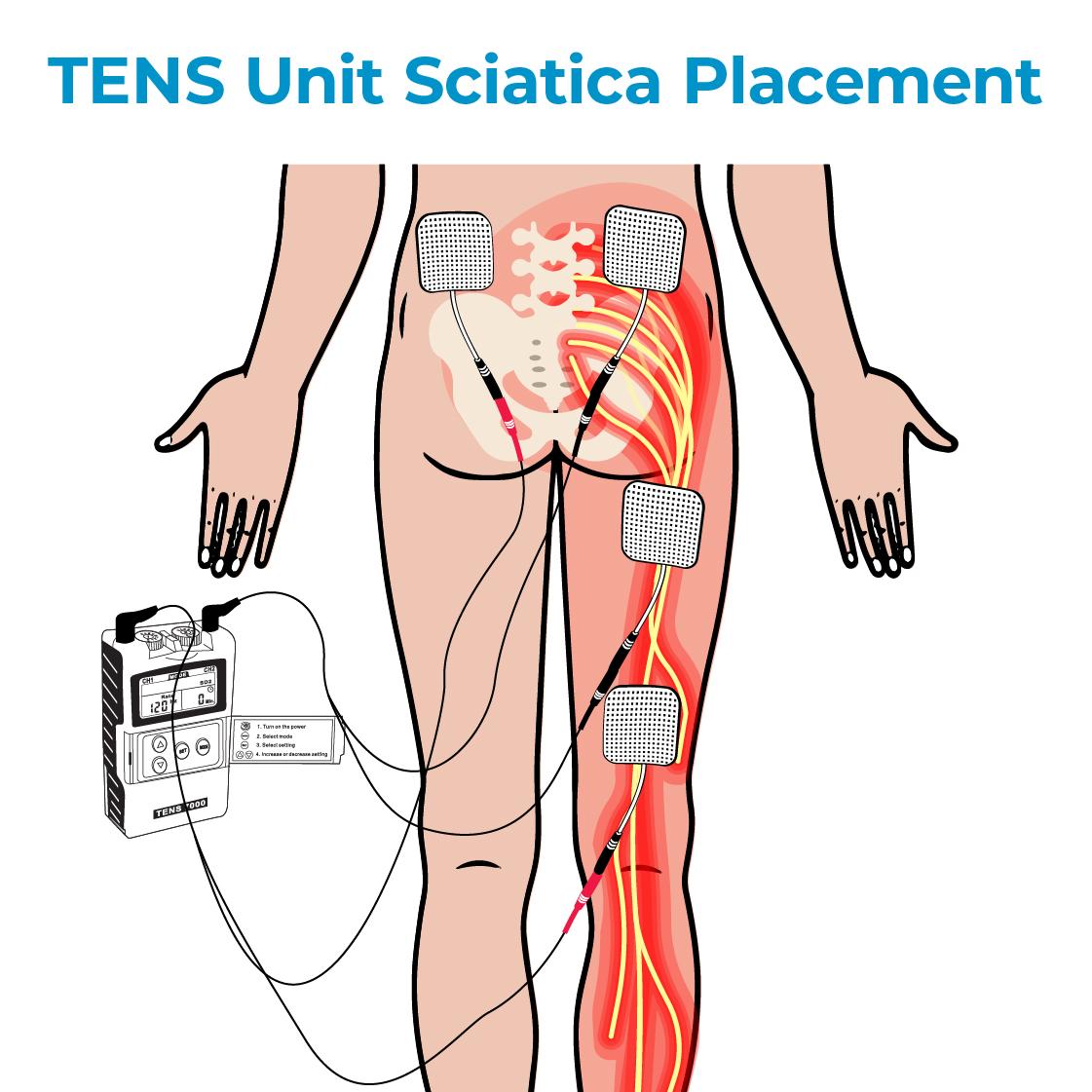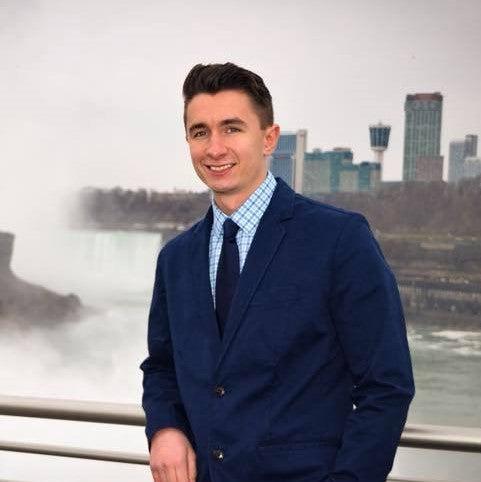 About the Author



Brandon Landgraf is the Digital Marketing Manager for Carex Health Brands. He finds passion and fulfillment in creating content that enhances, improves, and enlivens others' quality of life. All of his written work is formulated to not only offer essential advice and tips but back it with proven studies and experts. His mission is to connect with readers and provide steps to make their lives better.

About TENS 7000
Pain sucks. It affects millions of people each year with adverse physical and mental side effects. TENS 7000 provides tools to combat pain and let people live life on their terms, pain-free. Our TENS 7000 TENS Unit is one of the top-rated over-the-counter TENS units, having sold over two million since 2008. Stop letting aches and pain hold you back — live life on your terms.